Comparing Traditional Office Space to Serviced Offices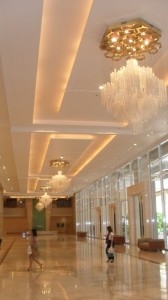 For a business owner, office space is frequently a must. You can go the traditional route and buy or sign a long-term lease agreement for empty office space, or you can try the exciting alternative of renting or leasing serviced offices in Asia, Europe, the U.S., and throughout the world.
Furnishings
When you buy or long-term lease traditional office space, furnishing it is up to you. That means you'll need to budget for desks, tables, chairs, computer equipment, and kitchen equipment. Even small spaces can eat up a lot of the money. Serviced offices, on the other hand, come fully furnished, so you get to avoid the headache of shopping for hours or days.
Utilities
In traditional office spaces, you will need to set up and pay for all utilities—Internet connection, Wi-Fi, water, electricity, garbage pick-up, etc.—which represents an ongoing monthly cost in addition to the mortgage or lease payment. In a serviced office, all of those utilities are included in your rental cost.
Contracts
Traditional office spaces require either a mortgage agreement or a long-term lease contract. If business goes sour, you could be stuck with the monthly cost even if you can't afford it. With serviced office spaces, the monthly rental cost is higher than with a traditional space, but you aren't stuck in a long-term contract. Rent by the hour, the day, the week, the month, or the year. Serviced offices are pay-as-you-use.
Prestigious Business Address
Obviously, the more prestigious and desirable the address, the higher the cost for traditional office space. Small or mid-size business owners usually don't have a prayer of affording the kind of business address that wows partners and clients—unless you rent serviced office space, that is. Serviced office space companies buy space at the best business addresses in major cities, so even a small business owner or lone entrepreneur can afford to impress a client by inviting him or her to a prestigious address for a meeting.
CEO SUITE offers 15 serviced office space locations in nine major cities scattered throughout Asia. Each of our offices is available for rent on an hourly, daily, weekly, monthly, or yearly basis, which means you can do business at an upscale address in beautifully appointed offices and conference rooms without the need to bust your budget on a mortgage. Visit our Home page to get more information and to find the location that best suits your needs.
Apr 15, 2015