Video Conferencing Facilities in Manila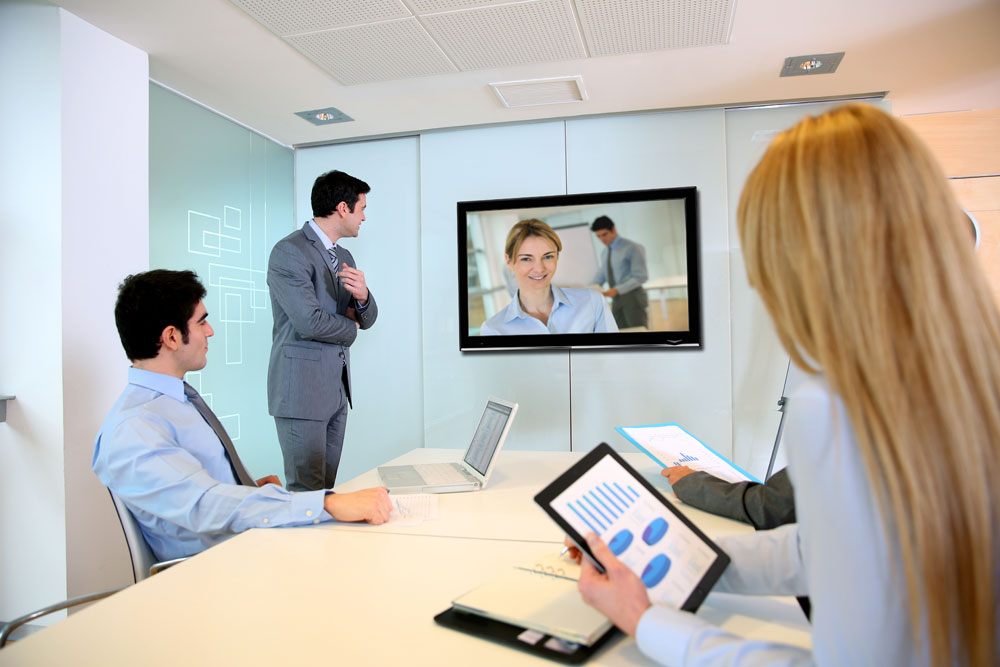 Today, companies find it quite easier to get a hand to expanding their business regardless if it's nationally, regionally, globally. It is evident and noticeable that even the small scale online businesses are slowly crawling and extending their products and services even to far parts of the world. Growth like this of businesses across the globe is brought about by the continuing rise of reach of the different digital media. Even communications are treated and done differently than how we do it before. Today, even blue chip multinational companies are adapting to this digital evolution and trend in the business world.
Video conferencing is a technology that is comparable with conference calls, web live meetings. The difference of the video conferencing from conference calls and web meetings is the video element that lets the meetings' participants and attendees see each other with live audio capabilities.
Video conferencing could also be used for smaller departmental meetings, hall meetings, etc. A function like this is well fit for companies that are operating in different countries, or a company that has a number of office branches, or store branches. Even to small businesses, video conferencing can also be applied. If you are a small scale business owner, or even a startup one, building networks or winning an account can be facilitated and can happen in a video conference. It is also a dramatic way of keeping your costs down. Imagine having the benefit of not being mindful of your travel expenses, board and lodging, travel food, etc., just so you can facilitate a meeting with your prospect client, create/maintain a good network relationship, or gain possible partnerships.
Video conferencing is the closest you can get to your business goals without actually having to spend so much. Apart from the reduction of cost video conferencing entails, it can also be a medium for learning even from a distance, and saving up time for you to maintain a proper work-life balance.
According to video-conferencing-guide.com, there are about 500, 000 searches per month on search engine sites, all of which are looking for the words "video conferencing". The demand for this type of communication in the corporate world is promising. In fact, it may actually become the business world's primary medium of communication considering the incessant rise of travel costs, gas, food, etc.,
Manila has been experiencing horrendous traffic situation for a few years now, and this imposes a negative effect on the productivity of business flows and operations daily. In situations and places where hurdles like this is beyond any corporate business' control, video conferencing is one great option to go for. There is now no need to worry and waste time and money to travel just to attend meetings. In Manila's center hub of commerce that is Makati City, there are many meeting rooms and conference facilities that are well equipped with the cutting-edge tools and technologies to provide your business a cost-efficient substitute, and a very discerning few who provides you with the freedom to select rooms and customize services fit for your business.
Here's a helpful few options of video conferencing facilities you may check out for your business:
1. WhyGo
They have 3-videoconference ready rooms- all of which are located in the center of commerce in Manila, which is Makati. WhyGo offers optional extras, and gives you the choice to select a room that is ideal for your group size and communication requirements.
2. eoffice
With 3 locations in central business districts in Metro Manila- 2 in BGC, Taguig and 1 in Makati City. eoffice offers latest technology for videoconferencing with a support team to assist with all your conference and meeting needs.
3. CEO SUITE
A service provide for serviced office industry established way back 1997, with 18 business centres across Asia, one in Ayala Ave. Makati City, CEO SUITE offers high-tech meeting and conference facilities. Boardrooms in all business centres have a trademark of the view of the city. Every booking comes with a dedicated meeting and conference planner attending to meeting and conference room rental concerns. Video and audio conferencing is also offered with CEO SUITE's catering options for breakfast, lunch, afternoon tea and light snacks.
4. Regus
Seven (7) business centers in the Philippines namely Makati City, Pasay City, Cebu, Cebu City, Manila, Pasig City, Muntinlupa City. Regus offers 24-hour booking for worldwide coverage, tech support, and suites equipped with video conferencing tools with complete meeting room service.
5. Compass Offices
Compass offices currently have two (2) business centers in Manila, Philippines- one located in Makati City, and one in BGC, Taguig. With complete video conferencing facilities, Compass Offices allows you to pay for videoconference technology and room rentals at a 15 minute rated pricing.
Apr 21, 2016