5 Sneaky Exercises You Can Do at the Office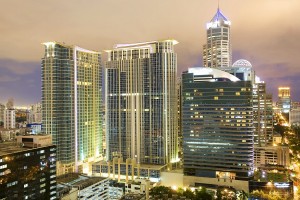 Sitting for long hours each day will kill you. Unfortunately, office work requires a lot of sitting, and even that trip to the gym on the way home might not be enough to undo the damage that hours of sitting in front of a computer screen can do. The good news is that a few small adjustments can go a very long way to keeping you healthy. Not only will you live longer, but you'll get the blood flowing and the brain working—just what the doctor ordered when the deadlines are looming over you.
Aside from the obvious good advice of taking the stairs instead of the elevator (or walking up the last few flights if you're up on the 53rd floor) and walking through the office to speak to colleagues in person rather than sitting there and e-mailing, here are five exercises you can do on the sly. Hardly anyone will notice, and you'll live a longer, more healthy life with just a little effort.
Exercise #1: Seated Leg Raise
From the waist up, you're focusing on that important spreadsheet or watching the fascinating presentation in the third hour of your weekly meeting. From the waist down, however, you're working your core, your glutes, and your thighs.
Whilst sitting in your chair, raise both legs up until they are parallel to the ground. Hold the position for five seconds. Slowly lower your legs, but don't let your feet touch the floor. Repeat five times every hour.
Exercise #2: Race in Place
Treat yourself (and your co-workers) to a race every once in a while. Stand up and jog in place for at least one minute (if you're new to exercise) and up to five minutes (if you are a pro). Keep your knees high for an added cardio boost. Music is optional.
Exercise #3: Triceps Dips
Don't neglect your triceps even mid-week! Stand in front of—but facing away from—an unmoving chair or desk. Put your hands on the edge of the desk or the arms of the chair and shuffle your feet out from the desk or chair by a step or two. Keeping your feet planted solidly on the floor, lean back until your arms support your weight and then bend your elbows until they are at 90°. Hold this position for a moment and then use your arms to raise yourself back to a standing position. Do 8-10 reps every hour or so.
Exercise #4: Wall Push-Ups
Make waiting time productive by leaning against a wall. To do wall push-ups, stand a step or two away from a wall and then support yourself with one forearm against the wall, hand flat on the wall's surface. Straighten your arm, pushing yourself to a standing position, and then bend your arm until your forearm once again rests against the wall. Do a couple and switch sides. Add more reps as your arms get stronger.
Exercise #5: Planking
This exercise depends on whether or not you have room, you have understanding co-workers, and you are suitably attired.
Lie stomach-down on the floor (bring a yoga mat to keep from picking up icky germs). Bend your arms so your hands are flat on the floor under your shoulders, and tuck your elbows into your sides. Raise yourself up on your elbows, locking your body straight from head to toe, and hold the position for as long as you can.
With a little ingenuity, getting a few exercises in at the office can mean the difference between keeping your blood flowing and your muscles strong and becoming a chair-sitting blob. At CEO SUITE, you can enjoy the luxury of beautifully appointed serviced office spaces as you try any one of our five recommended exercises. With 22 locations throughout Asia, we're sure to have the space that suits your needs. Select your preferred location to get started today.
Apr 11, 2015