Business Tips for Renting First Class Meeting Rooms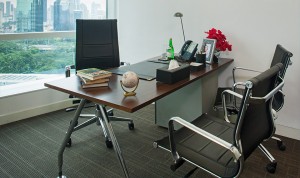 Freelancers, contractors, startups, and frequent travelers all face the problem of where to meet with clients. The meeting location arrangements can determine whether you get a deal, how much you can charge your clients, and how impressive your work is.
If you need to rent a meeting room in Asia, you have several options.
Contact a hotel and rent a meeting room there
Meet in a public place, such as a restaurant, coffee shop, or plaza
Reserve a private meeting room in a premium location at a shared or serviced office space
Meeting Clients in Hotel Meeting Rooms
Hotels often have comfortable meeting spaces for groups of 100 or more, so if it's a conference or large presentation you're setting up, a hotel can be a good choice. When selecting hotel as long as it is a good hotel in a premium location. If you're meeting with a smaller group, this can be less impressive, particularly if normally do business in the city. Your client might be understanding about meeting in a hotel meeting room if you are from out of town and are traveling to meet with a client, although hotel conference rooms still smack of being a "rented out" for the occasion.
Meeting Clients in Restaurants, Coffee Shops, and Other Public Spaces
Small, private meeting space is seldom found in hotels, so many people opt for meeting with clients in restaurants, coffee shops, and similar locations. If you are inviting a client to meet at a restaurant, you should be prepared to pay for your client's meal. You also need to select a good restaurant with a low noise level and appropriately spaced tables. Meeting in a restaurant or other public spot can do in a pinch but there will be many distractions going on and often business does not get conducted in its entirety, so you end up having to set up another meeting. Serviced office space is a smarter solution that provides the best presentation of your businesses.
Meeting Clients in Serviced Office Space
If you're interested in renting first class meeting rooms, you'll like serviced office spaces. For individuals who are are serious about the success of their business, serviced offices are an excellent way to impress clients with minimal cost. You can get on-demand access to meeting rooms and a virtual office (complete with an impressive business address). You'll be able to meet clients and customers in premium meeting spaces in prestigious buildings, but only pay for the meeting space when you need it. You can also reserve high tech conference rooms and videoconference services when you need them. CEO Suite offers flexible serviced office solutions throughout Asia, whether you want a business address and on-demand meeting space or a private executive office to use whenever you're in town.
All of these options offer ways of conducting business without maintaining a traditional office space or signing a lease or contract. If you're setting up a new business, expanding into a new city, or taking your contracting to a higher level, these options can help you impress clients and establish credibility. Contact CEO SUITE to learn about renting first class meeting rooms and conference facilities to add credibility to your business.
Jan 16, 2015